Getting here is a breeze!
Skip the hassle of parking, save time and gas! Use these convenient mass transit options, available exclusively during the Washington State Fair (Closed Tuesdays and Sept. 4).
Fairtime Transportation Options
Sounder Train - Saturdays, Sept. 14 & 21

The fun starts sooner when you take the train! Ride the Sounder train to the Washington State Fair on Saturday, Sept. 14 & 21.

Special Sounder trains will run serving nine stations between Everett and Puyallup.

Boarding Locations

Everett
Mukilteo
Edmonds
Seattle
Tukwila
Kent
Auburn
Sumner

After The Fair, head to the Fair's Red Gate to take the complimentary shuttle back to Puyallup Station to catch your train home.

Free Connector Bus to The Fair

Pierce Transit will operate a connector bus from the Puyallup Station to the Red Gate. Connector bus service is complimentary when either a Sounder train ticket or ORCA card is shown upon boarding. Or, it's a quick and easy walk to the Fair, just 5 blocks away.

ORCA may help save money on train fare.

Purchase A Sounder Train Express Pack

If you plan on riding The Sounder, be sure to purchase your Sounder Train Express Pack online!

The Sounder Train Express Pack includes:

One round-trip fare on The Sounder train Saturday, Sept. 14 OR Sept. 21
One Fair gate admission ticket (a $14 value)

Save up to 20% by purchasing Fair admission and Sounder fare in advance, plus skip the lines at the gate! Sounder Train Express Packs are sold online only.

Price is based on boarding location:

NORTH - For boarding in North King & Snohomish County (Everett, Mukilteo, Edmonds & Seattle): Adults $19.50 / Student (ages 6-18) $15.00
SOUTH - For boarding in South King County (Tukwila, Kent, Auburn & Sumner): Adults $17.50 / Student (ages 6-18) $14.50
Kids 2 & under are free on The Sounder if seated on a lap.

Note: ORCA cards will be accepted and stand-alone Sounder tickets will also be available at the station ticket vending machines.

Rain or shine. No refunds or exchanges. Online orders are subject to standard processing fees.

Pierce Transit Fair Express Bus

Catch a Pierce Transit bus with convenient service to The Fair's Blue Gate.

Fair Express Buses Depart From:

Lakewood Towne Center
Tacoma Mall
South Hill Mall

The Fair Express bus service will run from approximately 10am to 10pm Mondays, Wednesdays (except Sept. 4), and Thursdays.

On Fridays, Saturdays and Sundays, buses arrive more frequently and offer additional service.

Schedules vary at each boarding location; for detailed schedules and fare information, see the Pierce Transit Fair Express flyer, or check out Piercetransit.org.

Special Needs Rides - Pierce Transit Shuttle

Specialized transportation is available for registered SHUTTLE customers. Call Pierce Transit at (253) 581-8000, option 1, then 2, then 1, one to five days in advance to schedule your trip. SHUTTLE drops off and picks up in the Blue Gate parking lot at the Washington State Fair.

To assist with Puyallup's traffic control plan, Pierce Transit does not serve stops between 7th Ave & 15th Ave on Meridian except for Blue Gate service. Affected routes are route 4, 400, 402, and 425.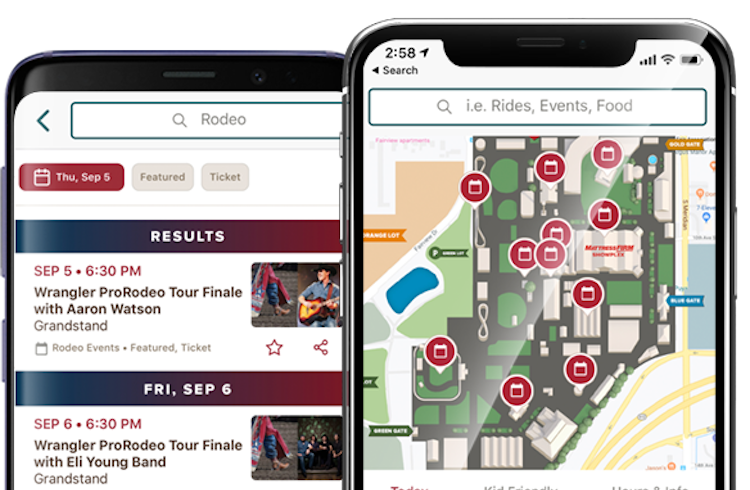 Interactive Map
Download our Mobile App to navigate The Fair with ease. Create a favorites list of activities, entertainment stages, rides, food to make sure you don't miss a thing!