Spring Fair Tickets - 2021
Tickets - On Sale Now!
Carload Tickets
Pile as many into your vehicle as you have legal seat belts for, then sit back and enjoy the fun, entertainment, sights and sounds of Spring Fair. All tickets are valid for one vehicle admission, one time through, with no re-entry.
TICKET TYPE
PRICE

Wednesdays or Thursdays
Choose a Designated Entry Time

$30.00 per carload
Fridays, Saturdays or Sundays
Choose a Designated Entry Time
$35.00 per carload
Anytime Ticket


Valid for any entry time on date purchased



$50.00 per carload
Shuttle Bus* (see requirements below, must provide own shuttle)
$55.00 per shuttle
*To purchase tickets for shuttle bus entry, please email boxoffice@thefair.com to book your entry date and time.
Purchase group tickets (25+) and receive concierge booking, plus, save on order processing fees. Please email boxoffice@thefair.com to book your entry date and time, based on availability.
Online orders subject to a $2 per order fee.
Dates & Times:
April 7-11 and 14-18
Timed Entry Hours: 10:30am to 7:30pm - Most experiences will close at 9:00pm.
All prices are PER CARLOAD
Timed entry tickets are required and must be purchased online-only, in advance
To get the pre-sale password, sign up for our free e-newsletter!
What your ticket includes:
Add-On Experiences:
These items are purchased in addition to your Spring Fair admission and are not included in carload admission tickets.
Add-ons MUST BE PURCHASED ONLINE IN ADVANCE.
Stand-Alone Events:
The following events can be purchased and attended separately and are NOT INCLUDED with your Spring Fair Carload Admission.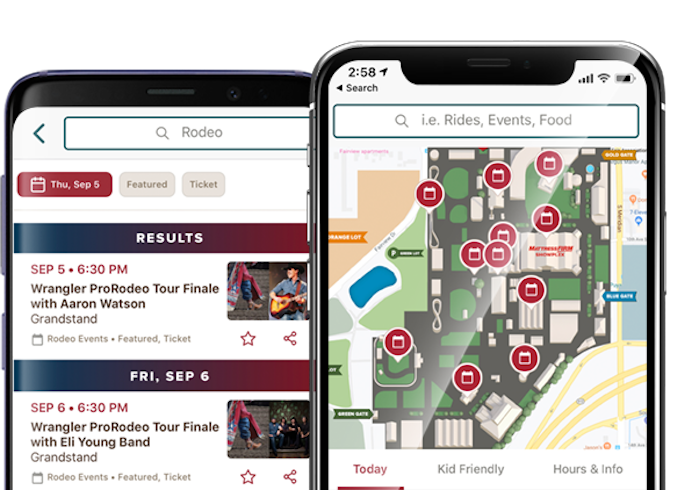 Interactive Map
Download our Mobile App to navigate The Fair with ease. Create a favorites list of activities, entertainment stages, rides, food to make sure you don't miss a thing!