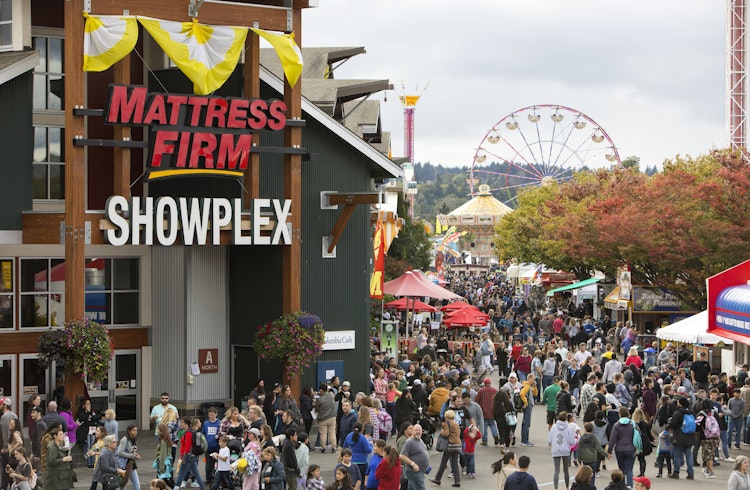 Washington State Fair
Thank you for your interest in the Washington State Fair! A 120-year tradition, this Washington state event is the one of the top Fairs in the world and the largest single attraction held annually in the state.
Since 1900, the Washington State Fair has held a very special place in the hearts and minds of millions of Fairgoers. As a sponsor of the Washington State Fair, your organization has the opportunity to not only be a part of this tradition, but to reach an extensive and receptive audience.
Request Information
It is our objective to help you reach your marketing goals and look forward to planning a successful sponsorship program with you. Contact us with your objectives so we can develop a customized proposal. Contact the Sponsorship Department at (253) 841-5023.
Attendance & Demographics
Attendance

Washington State Fair

Over 1 million people attend each September over 20 days.


Spring Fair

Over 100,000 attend each April over 3 1/2 days.

More targeted information is available by contacting the Sponsorship Department at (253) 841-5023.

Demographics

Gender

Age

6.1% - 12 & under
16.8% - 13-18
15.2% - 19-24
27.9% - 25-44
24.9% - 45-65
9.1% - 65+

Fair Guests

Visitors attend in groups averaging 3.2 and spend more than 6.1 hours at the Fair
59% of visitors visit the Fair website before attending
73% are likely to purchase the product/service over a non-sponsor
50.7% of visitors rate the fun of the Fair "Great, over the top"
The quality of the event experience offered at the Fair compared to other fairs is extremely high
86% enthusiastically refer the Fair to other people
92% plan to return to the Fair next year