Helpful Information
Health & Safety Guidelines
Security Policies

Security Policies

In order to make your visit to the Fair an enjoyable experience, we appreciate your compliance with our policies noted below.

Security Screening is required for all guests to enter the Fairgrounds - this may include metal detectors and/or bag checks




The Washington State Fair is committed to ensuring a safe and secure environment for our community


We operate on a philosophy that promotes the positive experiences for our staff, vendors and guests


All Washington State Fair gates will have a law enforcement presence during open business hours

The following items are NOT allowed at the Washington State Fair Events Center:

Weapons of any kind, including knives and all firearms, including individuals with a concealed weapons permit
Alcoholic beverages, marijuana and illegal drugs
Bicycles, skates, rollerblades and skateboards
Animals (except

service animals

or show animals)
Unauthorized vehicles
Any item that is deemed by the Safety Inspection Staff and/or Fair management to be dangerous

Please do not bring these items to the Fair or you will be denied entry. Items cannot be left at the gates for storage. Items not permitted on the facility must be taken back to guests' vehicles or put in the garbage receptacles. Any illegal items, including illegal drugs, will be turned over to the Puyallup Police Department.

The following are not allowed:

Disruptive behavior or unlawful acts
Solicitation, distribution, or selling of product outside of a contracted booth
Scalping or re-sale of tickets
Use of drones, laser pens or laser pointers

Please note:

Appropriate clothing and behavior are required
Personal items brought onto the facilities may be subject to search
Entry constitutes consent for Washington State Fair to use any film, video, or likeness of bearer for any purpose whatsoever without payment to bearer

Will Call

All will call tickets (including gate and grandstand tickets) are available for pickup at the Exterior Box Office window, located near the Gold Gate at the corner of Meridian & 9th Ave SW.

Rentals

Stroller, wagon, wheelchair and handicap scooter rentals are available from a third party the following locations:

Spring Fair: Blue Gate
Washington State Fair: Gold, Blue, Green and Red Gates

A valid state ID or credit card will be held for collateral with each rental. Credit cards and cash are accepted for payments at all rental locations.

Prices

Strollers: $12
Wagons: $17
Wheelchairs: $25
Scooters: $65 - ($45 after 5pm)

Accessibility Info

The Washington State Fair strives to comply with the Americans with Disabilities Act (ADA) regulations. It is committed to making the 160-acre facility accessible to all its guests.

Grandstand Security

We are committed to a safe environment for our guests; therefore, security screening may take place at all Grandstand entrances. Security screening includes metal detectors and bag searches. Weapons are prohibited. If you are unable to enter into a metal detector you will be subject to a pat down search. Guests who decline security measures or are found with prohibited items will be denied entrance to the Grandstand.

Pick Up / Drop Off Zone

We have a designated pick-up/drop-off zone if you need to drop someone off at the Fair. Head south on 3rd St. SW and pick up your party at the corner of 9th Ave. SW & 4th St SW, just east of the Red Gate (back side of Grandstand). Handicap accessible drop-off available only at the Green Gate.

First Aid

Located in the Fair Services/State Patrol building, south of the Pavilion. The station is staffed at all times with Central Pierce Fire & Rescue personnel. Fire department EMTs are also on the grounds to provide medical assistance.

Hand Washing Stations

Hand washing stations are located throughout the grounds for your convenience.

Healthy Hands Program Sponsored By

Recycling

Washington State Fair in partnership with Waste Connections Inc. provides approximately 300 recycling receptacles throughout the fairgrounds both during the Washington State Fair and Spring Fair and at over 150 events that take place during the rest of the year. In 2016, 63% of waste was diverted from landfills to recycling. Thank you to our Fair guests and partners for helping make this possible.

Brought to you by

Information Booths

Looking for Fair information or schedules? Stop by our staffed information booths to get the information you need! Located at the South of the Grandstand, near the Extreme Scream.

Lost & Found

Lost and found articles may be dropped off or recovered at the reception desk on the first floor of the Administration Building, near the fountain at the Gold Gate. Call (253) 845-1771 to check on a lost item.

Nursing & Changing Stations

There are three nursing stations located across the grounds, one in the women's Red Gate restroom, one in the Merchant's Building underneath the Grandstand, and one in SillyVille. Changing tables are located in women's restrooms near the Blue, Gold and Red Gates, Mattress Firm Showplex, near Rainier Rush, Pavilion, Expo Hall, SillyVille and Grandstand infield (south).

Smoking & Vaping

In compliance with Washington Initiative 901 RCW 70.160, smoking or vaping is not allowed in public buildings, or within 25 feet of building entrances, exits, windows that open and ventilation intakes. The Fair offers dedicated smoking areas, which can be found on the map.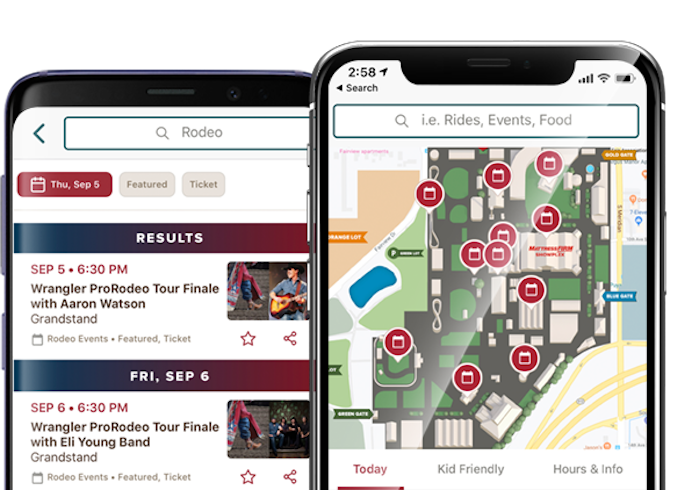 Interactive Map
Download our Mobile App to navigate the Fair with ease. Create a favorites list of activities, entertainment stages, rides, food to make sure you don't miss a thing!